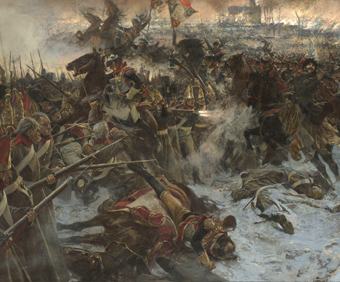 Projected Release Spring 2022


Winter's Victory is a grand tactical, battalion level simulation of the battle of Preussisch-Eylau that occurred on February 7th and 8th in 1807 in West Prussia (modern day Poland and Russia). It pits the Emperor Napoleon's Grande Armee against the Army of Imperial Russia under General Count von Bennigsen. This winter battle was one of the bloodiest battles of the Napoleonic era. The full campaign game covers the entire two day period of this epic struggle. The game also includes smaller scenarios covering Napoleon's approach to Eylau on the afternoon of the 7th, the bloody battle of the 8th on the high ground beyond Eylau, Davout's III Corps attack against the Russian left flank, and the Prussian late day counter attack.
The game system uses an asymmetric sequence of play and alternating fire combat. Most units are Infantry battalions, cavalry regiments and artillery batteries. At 15 minute per turn and 116 yards a hex the game system allows players to make both grand tactical decisions and apply tactical techniques used by the armies of the Napoleonic period.

Infantry battalions are represented by being in either column formation on the front side of the counter and line formation on the reverse side. Artillery are battery or half battery level units and separate artillery gun crews are designated for each battery. Other game features include:
* Highly accurate and detailed order of battle
* Brigade fatigue rules
* Separate Artillery and Infantry Fire Combat Results Tables
* Weather effects of wind and snow
* Mass cavalry charge
The game comes boxed and includes four 25.5 x 33 in. color mapsheets, over 2500 color, back printed counters, rules, charts player's aids and a 10-sided die.