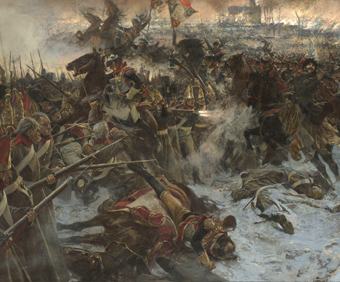 Pre-Publication Offer still available!
Click on the box below
for special savings!
Order direct from NES
to receive the Deluxe Edition
with these extras at no additional cost!

Winter's Victory is a grand tactical, battalion level simulation of the battle of Preussisch-Eylau that occurred on February 7th and 8th in 1807 in West Prussia (modern day Poland and Russia). It pits the Emperor Napoleon's Grande Armee against the Army of Imperial Russia under General Count von Bennigsen. This epic winter struggle was one of the bloodiest battles of the Napoleonic era. The four map full day scenario recreates the bloody battle of the 8th, covering the entire field from the approches to the town of Eylau to the massive Russian grand batteries guarding the high ground beyond. The game also includes smaller scenarios covering Napoleon's approach to Eylau on the afternoon of the 7th, and Davout's III Corps attack against the Russian left flank. A more free form battle game links the results from the single map February 7th scenario to determine the conditions of both armies and provides for alternative starting positions and optional reinforcement entry points and arrival times.
The game system uses an asymmetric sequence of play and alternating fire combat. Most units are Infantry battalions, cavalry regiments and artillery batteries. At 15 minutes per turn and 116 yards a hex the game system allows players to make both grand tactical decisions and apply tactical techniques used by the armies of the Napoleonic period.

Infantry battalions are represented by being in either column formation on the front side of the counter and line formation on the reverse side. Artillery units are battery or half battery and separate artillery gun crews are designated for each battery. Other game features include:
* Highly accurate and detailed order of battle
* Brigade fatigue rules
* Separate Artillery and Infantry Fire Combat Results Tables
* Weather effects of wind and snow
* Mass cavalry charge
The game comes boxed and includes four 25.5 x 33 in. color mapsheets, over 2300 color, 9/16 in. back printed counters, rules, playbook, charts player's aids and a 10-sided die.

_____Rules & Playbook available as PDF downloads. Click Here
Projected Release: December 2023


_____Winter's Victory 100% Cotton Ts are now available!
_______